Fearless Flyer Testimonials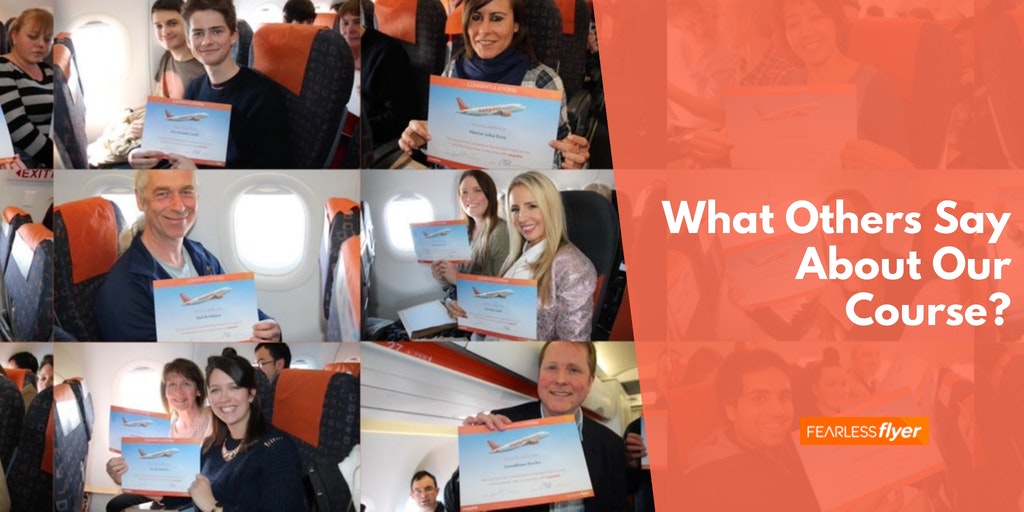 The Fearless Flyer online course is 10 out 10! I purchased it last week and had my first flight today after eleven years without any fear and without a panic attack!… Thank you so much, you've changed my life! I will recommend this course to anyone I know, promise! Thank you, thank you, thank you!
Carlo Iten
This course is amazing. Before I took the course I could never even talk about flying or book a flight anywhere, but now I get excited even just booking a holiday and all my negative thoughts have faded away!
Jesie Rose
Dear Fearless Flyer Team. I'm still completely overwhelmed and excited about our family vacation to Mallorca!!! It has worked after 18 years of my fear of flying and only holidaying locally! However, following the course I flew almost completely fearlessly thanks to the confidence I gained from your course.
I am incredibly grateful and happy that I am now a fearless flyer! A thousand thanks. It was worth every penny and we are already planning the next vacation in the Autumn!!!!
Judith Reinecke
This course helped me to clear my mind and gave me the confidence to resume flying. I now see the glass half full and not half empty. The MP3 player was a great help because during the flight and especially during the take-off phase, I listened to it continuously.
I must say that even though the weather conditions were not particularly favourable, the plane practically never moved. Maybe it was always like this and I just didn't realise it!
Marta Francesco Paolo
I love to travel and I have always tried not to let myself be affected by my fear of flying, but recently it was getting worse and worse. So I decided to buy this course. I never thought that a simple online course could have radically changed my mood and my feelings while flying – but it did!!
Thanks to the course I was able to take a flight after a few days and remain totally calm whereas previous I would suffer quite badly. I was amazed by my tranquillity and calmness during the trip. It was a wonderful experience … I'm still on holiday and I'm already thinking of booking for the next trip! Thank you!
Andrea Cristini
I used this course and as a result I can happily say that I am now an ex phobic!!!
I was a person who, just seeing aircraft taking off or just flying around gave me sweaty hands and a pounding heart. I have flown previously many times but then at some point developed a fear of flying! After 14 years of totally refusing to fly I decided to face my fears because I didn't want to deny my son (now 13) the chance of seeing the world!
So I purchased the course and last week I flew to Sardinia! Initially I had a bit of a wobble but then I settled back and had a fantastic relaxed flight and even managed a little nap!!! My return flight was even better and in fact we were initially delayed due a technical issue and in the past, under those circumstances, I would have got off the aircraft and refused to fly… But today, I sat in my seat feeling very calm… eventually we took off and I had a super fantastic flight!!!
Thanks to easy jet and to you who have thought of us! I haven't unpacked yet as I'm already thinking about the next trip!!!! On a plane obviously! Thank you so much.
Roberto Zoco
It's impossible for me to fly without being sick with fear. Following your course, I went from Paris to Thailand via a stopover … I was able to sleep, watch movies and I was not afraid of flying back. I did not believe it, but it really works.
I especially liked the pilot's explanation of what I didn't know. I'm ready to travel again where previously I thought it was impossible because of my fear. A big thank you to you.
Isabelle Melinion
I was waiting to come back from my trip to share my experience with you of your online courses. And I just have to say THANK YOU!! I travelled from Lyon in France to the Maldives with incredible calmness!
I even took a seaplane that was really small, and again, I was completely calm during the trip. The only regret is not to have found you before, I stopped travelling all these years because of my fear of flying and I intend to make up for lost time! I will definitely recommend your online course to anyone who needs it.
Thomas Gelot
I used to fly but absolutely hated it. I'd spend the whole flight rigid with fear, listening to loud music on headphones so I couldn't hear the noises the plane made which I was convinced meant it was engine failure and about to crash. The fearless flyer course was amazing.
The pilot explained the way a plane flies so clearly and using such good analogies that I suddenly understand why planes don't plummet out the sky. Lawrence explained that I am actually making things much worse all because of the way I am thinking about things and has given me a different way to approach flying.
I have to take a very long flight next month to a family wedding which I was absolutely dreading but now I am really looking forward to a chance to use these new techniques and just to fly knowing that all the strange noises are completely normal. Such a good course. I'm so pleased I decided to do it.
Rachel Holmes
The course is well balanced and focuses perfectly on the fears that most often affect those who are afraid of flying. The technical part is well structured and explains things very well, clarifying any doubts and misconceptions. The relaxation techniques are simple and well explained. The day after finishing the course I took two flights… And it never seemed so simple!
Alessandro Rossi
I never thought I'd return to flying. I was very scared and I didn't think it was possible to get on a plane again. The course gave me awareness of the procedures, risks and possibilities of managing my anxiety.
On December 28th I took a flight to Amsterdam and I flew 2 hours to reach my destination and on January 3rd I came back, managing my emotions in an excellent way. I recommend the course to anyone who really wants to fly but is too scared to do it! Take this course……it holds the key to being able to fly. Thank you!
Sandra Biasci
My expectations of the course were met 100%! I no longer feel anxious and am looking forward to my vacation and can say again that the holiday now starts from the moment I enter the airport and not when I am safely at the destination, which used to be the case!
The technical information about the aircraft and the pilot's explanations have helped me so much that I know now, IT CAN NOT HAPPEN TO ME! 
Desiree Furrer
I have to thank you ….. My husband bought me the online course because I had a flight booked and I was starting to feel sick in the days leading up to it! The flight there went well …. the return flight was great! I talk about it all the time …. I felt like I hadn't felt for years! I started taking pictures of the clouds … While the plane was dancing! It was a great joy for me! To think that I was afraid even to see an airplane take off! Thank you!
Antonella Chinellato
As promised here is an update on my experience on our flights between Edinburgh and Basel (5 and 18 September) since taking the online course. This trip to Basel was my first return flight since 1993 and my most relaxed. I would fully recommend the online course, combining the technical elements with the relaxation techniques. And the MP3 player was a real treasure, especially at take-off, which had been my biggest worry in the past.
Overall probably one of the best-value buys I've ever made! We'll be travelling again with easyJet – probably to Copenhagen as our first trip – and then back to Switzerland and Italy. And a last word about the cabin crew – really pleasant and friendly – their relaxed, happy manner even at 6am was a great support. Well done to all involved in your online course.
Alan Speedie
Hello, I am a health professional and purchased your online course because of my acute fear of flying. My last trip in 2008 was catastrophic: Panic attacks, alcohol, medicine, impossible to stay in my seat …. It was total hell! However, after taking the course I flew from Lyon to Venice. I just had a little bit of apprehension at the time of take-off. And then…….nothing!
There was wind and we had turbulence …. but it just  amused me !!!!!! I could not believe it …. a very nice flight without medication or alcohol. On the return flight, which was at night, I watched my iPad during take-off as I was totally relaxed. I am cured of my fear of flying. A big thank-you. f I did, then everyone can do it.
JP Vigarie
The course was very useful to me! It helped me to better understand my fear and rationalise it. I especially appreciated the pilot's technical explanations: they helped me get ready and know what to expect at every stage of the flight. It was reassuring to know what kind of training the pilots follow and all the procedures and instruments and systems supporting the flight.
Also the part related to relaxation exercises was very important because it allowed me to focus and release my fear and I found it and calmed me immediately. Even the structure of the course was perfect for me because it allowed me to log in when I had time available and above all to better absorb the information and review it whenever I wanted.
After the course I flew and it was a wonderful experience for me after having avoided flying for too many years. Thank you!
Maria Caterina Pizza
I took the course because it had got to the point that as soon as a holiday was proposed that involved a flight a feeling of dread would come over me which was usually interpreted as I did not want to go on holiday at all with the family. Nothing particular happened to cause this as I had flown many times before all over the world. I suddenly realise that I was getting more and more nervous.
The course was easy to follow and seemed too good to be true. The technical part helped me on the recent two flights I took. I was, as the video said, filling in the gaps with worse case scenarios. I understood why certain things happened such as banking after take-off (where I would imagine we were returning for an emergency landing), and seeing thunder clouds ahead and realising the pilot could go around them ( which he did).  I still had the start of anxiety when we had some turbulence but realised it was normal and the breathing and tapping techniques prevented it escalating.
I even used the techniques on a roller coaster ride I was " persuaded" to go on and for the first time the photo showed me sitting calmly with eyes open rather than clinging for dear life to the rail!  Before I retired 2 years ago I was a safety inspector for almost 30 years and I realised that my job was always asking "what if" and what is the worse that might happen and perhaps this had overflowed into my everyday way of thinking.  Who knows.
Thank you for helping me find a way forward on what had become a real problem.
Paul Woodhouse 
The course is a perfect combination of coping techniques and technical information, which together, has made my outlook on flying and my experience of flying much more pleasant. I flew a few days after the online course and have never felt more relaxed on a flight (I fly at least twice a year despite feeling sick at the thought of it).
But not anymore – now I understand how a plane works, now I understand the difference between what is actually happening and what my perception is, and now I have coping techniques if I do become worried/scared. Thank you so much!
Nicky Robson
I found the online course very convenient. It's very well put together, easy to understand and very well illustrated. The menu navigation makes it easy for everyone to complete their course at their pace.
The combination of psychological and technical explanations convey a great deal of knowledge. Personally, I found the technical knowledge very reassuring and have now taken my first flight! I would recommend the course to anyone who is afraid of flying.
Maureen Finkbeiner
People who have taken our live course